The Complete Painter: Lessons from the Masters
Books and More: 4. Art Historical Materials
This section has three sub-sections -
4.1 Art History
4.2 Art Criticism and Art Theory
4.3 History of Materials, Technical Art History and Conservation Studies
Three asterisks *** denote free materials
4.1 Art History
This short list contains links to articles and art historical texts referenced in the course and a few others that are comprehensive.
Art & Architecture Thesaurus ® Online, The Getty Research Institute ***
Davies, Penelope. Janson's History of Art
Foster, Carter E. Hopper Drawing
Hockney, David. Secret Knowledge
Hockney, David and Martin Gayford. A History of Pictures
Kemp, Martin. The Science of Art
Kleiner, Fred S. Gardner's Art through the Ages: A Global History
Schwartz, Gary, Ars Moriendi: the mortality of art ***
Sewell, Darrel, ed. Thomas Eakins
Stokstad, Marilyn, and Michael Cothren. Art History
4.2 Art Criticism and Art Theory
Many of my advanced students ask about art criticism, art theory and related subjects. For an overview of art criticism see the Wikipedia page on the History of Art Criticism and the related page on Art Criticism.
Goldsmiths, Univerity of London, offers an MA in Contemporary Art Theory. They define the subject as encompassing, "theoretical perspectives that shape attitudes towards visual art . . . [including] . . . critical theory". They further define the study as an "interdisciplanary. . .academic discourse on visual culture . . . [that] . . . draws from the fields of performance studies, art history, philosophy, museology, queer theory, post-colonial studies and cultural studies."
Regarding "critical theory" see the Encyclopaedia Britannica and the Stanford Encyclopedia of Philosophy. The former tells us that critical theory is a "Marxist-inspired movement in social and political philosophy originally associated with the work of the Frankfurt School. Drawing particularly on the thought of Karl Marx and Sigmund Freud, critical theorists maintain that a primary goal of philosophy is to understand and to help overcome the social structures through which people are dominated and oppressed."
My students also often ask about the terms "semiotics", "modernism" and "postmodernism". The first concerns "the study of signs and sign-using behaviour." Modernism generally refers to "a period of experimentation in the arts from the late 19th to the mid-20th century" that was characterized by "a break with the past and the concurrent search for new forms of expression". Postmodernism is defined as "a late 20th-century movement characterized by broad skepticism, subjectivism, or relativism; a general suspicion of reason; and an acute sensitivity to the role of ideology in asserting and maintaining political and economic power."
Below you'll find a bibliography straddling art criticism, art theory and related subjects.
Arnheim, Rudolf. To the Rescue of Art: Twenty-Six Essays
Barnet, Sylvan. A Short Guide to Writing About Art
Beckley, Bill and David Shapiro, eds., Uncontrollable Beauty: Toward a New Aesthetics
Berger, Maurice ed. The Crisis of Criticism
Bourriaud, Nicolas. Relational Aesthetics
Brenson, Michael. Is 'Quality' An Idea Whose Time Has Gone?
Danto, Arthur. Beyond the Brillo Box
Fenstermaker, Will. Ten Essays that Changed Art Criticism Forever ***
Fineberg, Jonathan. Art Since 1940
Foster, Hal, ed. The Anti-Aesthetic: Essays on Postmodern Culture
Fried, Michael. Art and Objecthood
Gombrich, Ernst. The Story of Art
Greenberg, Clement. Art and Culture: Critical Essays
Hess, Thomas and Elizabeth Baker, eds., Art and Sexual Politics
Hickey, Dave. Air Guitar: Essays on Art and Democracy
_________. The Invisible Dragon: Four Essays on Beauty
hooks, bell. Art on My Mind: Visual Politics
Hughes, Robert. Nothing If Not Critical
_________. The Shock of the New
Indiana, Gary. Vile Days: The Village Voice Art Columns, 1985-1988
Kramer, Hilton. The Revenge of the Philistines: Art and Culture, 1972-1984
Krauss, Rosalind. The Originality of the Avant-Garde and Other Modernist Myths
Krimp, Douglas. Before Pictures
Kuspit, Donald. Redeeming Art: Critical Reveries
Lippard, Lucy and John Chandler, The Dematerialization of Art ***
Margolis, Joseph, ed., Philosophy Looks at the Arts
McEvilley, Thomas. Art and Discontent
Nochlin, Linda. Women, Art, and Power and Other Essays
Plagens, Peter. Sunshine Muse: Art on the West Coast, 1945-1970
Rose, Barbara, ed. Readings in American Art Since 1900
Rosenberg, Harold. Art on the Edge: Creators and Situations
_________. Artworks and Packages
_________. The Tradition of the New
Rubinstein, Raphael. A Quiet Crisis ***
_________. Where is the Audience for Art Criticism Now? ***
Saltz, Jerry. Learning on the Job ***
Schjeldahl, Peter. The Hydrogen Jukebox: Selected Writings of Peter Schjeldahl 1978-1990
Sontag, Susan. Against Interpretation and Other Essays
Storr, Robert. Interviews on Art
Szaìntoì, Andraìs. The Visual Art Critic
Wolfe, Tom. The Painted Word
Youngman, Hennessy (aka Jayson Musson), Art Thoughtz ***
4.3 History of Materials, Technical Art History and Conservation Studies
Berrie , Barbara H, editor. Artists' Pigments, Volume 4
Bomford, David, Sarah Herring, Jo Kirby. Art in the Making: Degas
Bomford, David, Jo Kirby, John Leighton, Ashok Roy. Art in the Making: Impressionism
Bomford, David, Jill Dunkerton, Dillian Gordon, Ashok Roy. Art in the Making: Italian Painting Before 1400
Bomford, David, Jo Kirby, Ashok Roy. Art in the Making: Rembrandt
Bomford, David. Art in the Making: Underdrawings in Renaissance Paintings
Carlyle, Leslie. The Artist's Assistant
Church, A.H. The Chemistry of Paints and Painting ***
_________. The Chemistry of Paints and Painting (hard copy)
Clarke, Mark. The Art of All Colours
Crook, Jo, Tom Lerner. Impact of Modern Paints
Dunkerton, Jill. The Restoration and Technical Examination of Jan Van Eyck's Margaret, the Artist's Wife ***
Eastaugh, Nicholas. Pigment Compendium, A Dictionary and Optical Microscopy of Historical Pigments
Getting, Rutherford J., and George L. Stout. Painting Materials
Harley, R.D., Artists' Pigments c. 1600-1835
Technical Bulletin, National Gallery ***
Stoner, Joyce Hill and Rebecca Rushfield ed. Conservation of Easel Paintings
Thompson, Daniel V. The Materials and Techniques of Medieval Painting
Townsend, Joyce H. The Materials Used by British Oil Painters in the Nineteenth Century ***
Townsend, Joyce, Jaqueline Ridge and Stephen Hackney. Pre-Raphaelite Painting Techniques
Wallert, Arie, Erma Hermens, and Marja Peek, eds. Historical Painting Techniques, Materials, and Studio Practice ***
Van de Wettering, Ernst. Rembrandt: The Painter at Work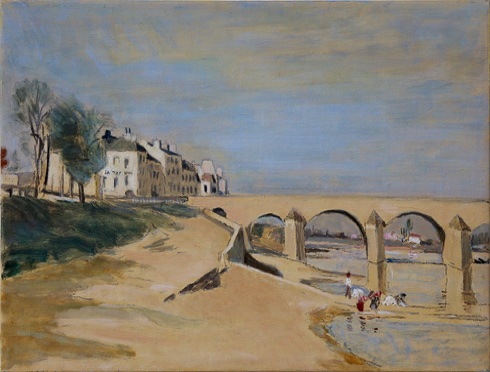 David Brody, 2019, after Jean-Baptiste-Camille Corot,
Bridge on the Saôn at Mâcon, 1834
From The Complete Painter: Lessons from the Masters, Lecture 30