This page covers most of the materials needed through Lecture 18: Degas, Hammershøi, and Other Projects.
Oil Paint
These tubes represent our beginning palette of white, black and the earth tones. I've linked here to Williamsburg, the same brand I used in the course. The titanium white is a large, studio size, tube (150 ml). The others are all standard tubes (37 ml).
Flake White (also labeled Lead White and Cremnitz White - contains lead)
While Williamsburgh is one of the more expensive paint brands, for these colors the price differential is not extreme. That said, there are plenty of viable less-expensive options including Winsor & Newton and Blick, to name a few. You'll find a full discussion of brands and price in the course guidebook chapter on Lecture 19: Materials, Oil Paint Brands and Quality.
Brushes: Hog Bristle
Robert Simmons Signet brushes are excellent hog bristle brushes. I use them routinely in my studio and used them in the course, too. In Lecture 3: Basic Painting Materials I suggested getting a 1, 3, and a 5 of the four basic brush shapes—flat, bright, round and filbert. If your budget allows, you might also want to get a couple 8s.
Brushes: Soft Bristle (Long Handle)
To get started, this is an affordable set of 5 white taklon brushes from the Princeton brush company. It includes a flat, a bright, a filbert, and two rounds.
Brushes: Soft Bristle (Short Handle)
For very small and detailed work I've used these short handled soft bristle brushes.
Palette and Painting Knives
There are a great variety of palette and painting knives in a range of sizes and shapes. One flat (palette) knife and/or one angled (painting) knife would be fine to get started.
Glass Palette
To make a palette like the one I made in Lecture 3: Basic Painting Materials you'll need a piece of glass, a piece of white foamcore cut to the same size as the glass, and some white tape. If you don't have a convenient source for glass you might want to look at theses 1/4" options and these heavier 1/2" options. Foamcore is available at most art supply stores. This is white tape, like what I used in the video. To clean the glass palette you'll need a razor blade tool.
Other Palettes
There are a range of other palette possibilities, for a range of painting media including water color, acrylic and oil. Among the options I discussed in the lecture Basic Painting Materials are hand-held wooden palettes and disposable paper palettes.
Odorless Mineral Spirits (OMS), Linseed Oil and Squeeze Bottles
I've been using Gamsol odorless mineral spirits for some time now. In comparison with hardware store brands it's much more "odorless" because more of the harmful aromatic compounds have been removed. You'll need about 64 oz to get started—30-36 oz for the 2 brush cleaners, the rest for your squeeze bottle(s) and to top-off the brush cleaners as needed. You'll also need some refined linseed oil. About 8 oz should be fine to get going. I've often used these squeeze bottles.
Brush Cleaners and Cleaning
These are the screw-top glass jars that I used for the brush cleaners. You'll also need some screen mesh and some metal wire—I generally use something between 10 and 22 gauge—and a couple empty, clean small cans, like tuna cans. The specialty soap I used in the brush cleaning demo was The Masters Brush Cleaner and Preserver. If you forget to clean a brush and the paint has dried somewhat I've found that Winsor & Newton's Brush Cleaner and Restorer can do the trick and bring the brush back to life.
Prepared Canvas Rolls
For all the paintings and exercises in the first 27 lectures I used pre-primed unstretched canvas cut to size from a roll. There are plenty of options here. If you've never used this kind of material before you could get an inexpensive small roll (60" x 1 yd) and try it out. Or, you could get something a bit bigger (64 1/2" x 3 yds) that will allow you to paint more projects without needing to re-order. Another option's to get something with a more substantial triple acrylic priming (60" x 6 yds). In the videos I used both Claessens Double OP (Oil Primed) Linen Roll #13 - Very Fine Texture and Caravaggio 551 Oil-Primed Linen Fine Texture. They're both great, but they're also expensive. These push pins are heavy-duty aluminum and work very well for pinning a piece of canvas to a sheetrock wall.
Other Supports
There are a range of other options to consider, from 90 lb. painting paper that will work in most home printers, to inexpensive canvas boards, to more expensive Belgian linen panels, to stretched canvas in a range of qualities and at a range of price points. If you opt for panels or stretched canvas you'll want to make sure that the size you choose will work for a given project.
Watercolor Paper
If you'd like to print the cartoons for the course on watercolor paper using your home printer, try a 90 lb. paper like what you get in the Strathmore 200 Series pads. Trimmed to 8 1/2" x 11" the paper worked fine in my HP laserjet printer.
Easels
Though I didn't use one in this course, this is the easel I used in How to Draw. Here are some other options in a range of styles and price points - from a small tabletop easel, to a foldable portable easel, to a reasonably-priced French easel, to a mid-range wooden studio easel to a convertible easel that can be used either vertically or horizontally.
Mahl Stick
If you don't want to bother making one, this is the commercially available mahl stick I showed in Lecture 3 and used in the videos.
Proportional Dividers+
These are the plastic proportional dividers and the brass proportional dividers I used in Lecture 14. This is the beam compass.
Health and Safety
These are the nitrile gloves I use in my studio and also used in the videos. This is my oily waste can and flamable storage cabinet. The latter, unfortunately, are quite pricey.
Lighting
I've used these Green Creative daylight bulbs. They're 5000K, 3,400 lumens, have a CRI of 82 and a beam angle of 290º. I've also used these Waveform bulbs. They're available in either 5,000 or 6,500K, output 800 lumens, have a CRI of 95 and a beam angle of 320º. They also make a 4 foot T8 tube that's also available in either 5,000 or 6,500K, outputs 1800 lumens, and has a CRI of 95.
Miscellaneous Items for the Studio
I use both this 1" tape dispenser and this 2" model in my studio. They're both heavy and well made. The blade is very sharp, so keep your fingers well away. This is the iPad stand I used in the videos and have in my studio.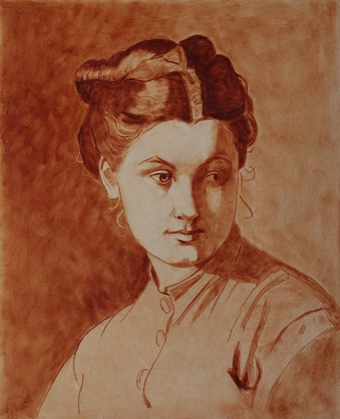 David Brody, 2019, after Thomas Couture, Juliette, 1876
From The Complete Painter: Lessons from the Masters, Lecture 12
The Complete Painter: Lessons from the Masters
Basic Painting Materials