I'm David Brody, Professor of Painting and Drawing at the University of Washington in Seattle. I've created two video courses for The Great Courses—one on drawing, How to Draw, the other, on painting, The Complete Painter: Lessons from the Masters.
You may have noticed watching the lectures that it's difficult to tell what specific brand of any material or tool I'm using. Because of copyright law we had to tape over the brand names and logos on my brushes, paints and all the rest.
This site's meant to fill in the gaps and provide links to specific painting and drawing materials, books and other resources associated with the course as well as materials and tools I routinely use in my own studio, plus some others that may help direct you to a tool or material you're trying to find. I'd add, that in the end much having to do with materials boils down to personal preference.
This site has the following pages:
This page covers most of the drawing materials discussed in the course.
This page covers most of the materials used up through Lecture 18: Degas, Hammershøi, and Other Projects.
This page covers materials discussed and used in the later lectures.
These pages includes many of the texts discussed in the course and listed in the annotated bibliography supplemented with links to other useful materials.
The Complete Painter: Lessons from the Masters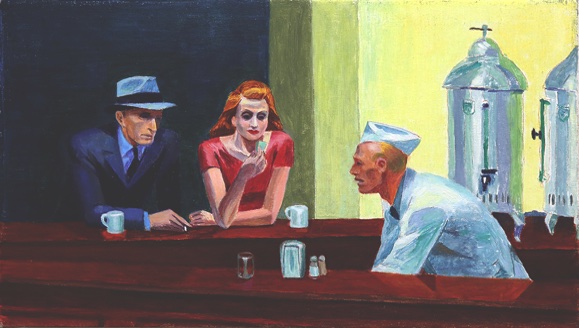 David Brody, 2019, after Edward Hopper, Nighthawks (detail), 1942
From The Complete Painter: Lessons from the Masters, Lecture 34